Dear All,
Pi is a new "social cryptocurrency" which launched in early 2019 and is secured and backed by 'everyday people' by mining via their smartphones or tablet computers.
It does this instead of using specialised (and expensive!) mining equipment such as the ASIC miners that secure the Bitcoin network.
If you've read the BTST Member Bitcoin Report then you'll hopefully have a basic understanding of what mining is, and why it's necessary for a "proof of work" cryptocurrency :-)
The reason Pi is so interesting is that during the BETA phase, you can "mine" Pi for free.
I've been mining it myself for the last two weeks (as have TALEX staff!) and I've been itching to let BTST Members who bought the Bitcoin Report know about it…
How to "Mine" Pi:
All you have to do is download the Pi app, enter your name, phone or email, and enter an invite code. You can then begin mining (it literally takes 2 minutes with no technical skill needed).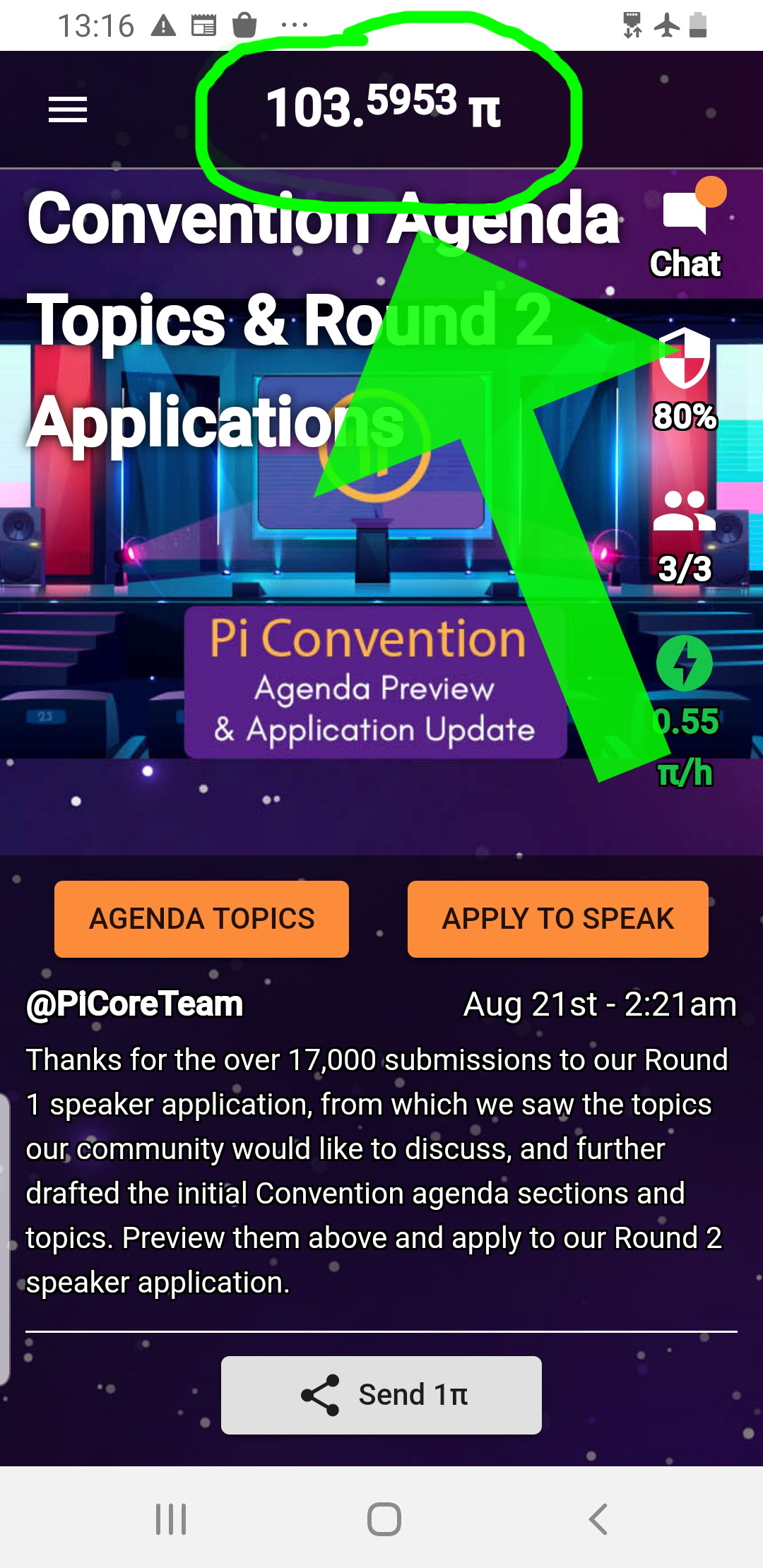 If you want to know more technical details, see the "more info" section below.
However, if you just want the broad strokes, here they are:
While in Beta mode you can "mine" Pi while not actually expending any of your phone or tablets battery or data;
All you need to do is "check in" via the app once per day to keep "mining" Pi;
There is

no cost whatsoever

(completely free to mine Pi);
All you need is an invite code from an existing user (you can use adambtst);
When Pi gets listed on an exchange, you'll be able to sell your coins on the open market, or if you prefer, hold them for the long term in the hope that they will rise drastically in value, as Bitcoin and many other cryptocurrencies have done before.
If you've heard enough and your attitude – like mine – is "screw it, what is there to lose?!" then you can download the Pi app here:
You'll need an invite code to be accepted in to the network, which is:
adambtst
More info…
Pi is currently in "beta" mode and is building a user base organically – just like Bitcoin did.
Another similarity to Bitcoin is that there was no pre-mine. In case you don't know what that means, the founders didn't "pre-mine" a portion of the coins that will ever be minted for themselves.
If the founders want to own Pi, they have to "mine" it, just like everyone else!
This is a very good thing and indicates to me that this is a highly credible project.
Pi's idea is to build a network effect amongst early users to gain rapid adoption, which they appear to be doing very successfully (there are claimed to be around 7.5 Million users mining currently).
You can earn Pi coins at an hourly rate by "mining" the coin on your phone.
Technically, users aren't actually "mining" by the classical (Bitcoin etc.) definition because it uses a different consensus protocol which is more like "Proof of Stake".
Instead, "mining" Pi is essentially a network of Users doing their part by directly interacting with the protocol.
If you are lost, don't worry! I've been in to cryptocurrency for a few years now and even now sometimes the technical stuff goes over my head :-)
Potential of Pi
Pi is far more speculative that Bitcoin (which, personally, I don't see as speculative at all), however the *potential upside* is much greater because a) we are getting in so early (it hasn't even launched on exchanges yet, and won't until it has at least 10 Million users according to the team) and; b) it costs you nothing to "mine" Pi :-)
There are rumours in the industry that Pi is already very close to 10M users, and the team have actively started negotiating being listed on exchanges, at which point the Pi token will have a market value and be tradable.
My thinking is what is there to lose?!
It may eventually fizzle to nothing, or it may become one of the top Cryptocurrencies in the World.
If it fails, you've lost nothing and if it wins, you could potentially make a lot of money (not financial advice!), just as early miners of Bitcoin (and many other cryptocurrencies) did.
I've done a reasonable amount of research on Pi and it seems very credible to me. I'll personally be surprised if it's not a success based on the number of "successes" of scammy crypto projects which have clearly been designed to enrich the founders.
I'm certainly not making any promises or predictions, but suffice to say that I've been mining Pi personally for the last two weeks and I know that people in the industry are hopeful of making a lot of money from mining it!
So I thought why not put the opportunity to Members who've ordered the Bitcoin Report previously?
How to start "Mining" Pi:
Go to: https://minepi.com/;
Download the app (Apple or Android);
Use your real name and phone or email address (otherwise you may not be able to withdraw your Pi later);
You'll need an invite code to be accepted in to the network, which is:
adambtst
Enjoy, and if you have any problems, drop us a line (Mem in User support is a crypto expert so he'll be happy to assist :-)
All the best,
Adam